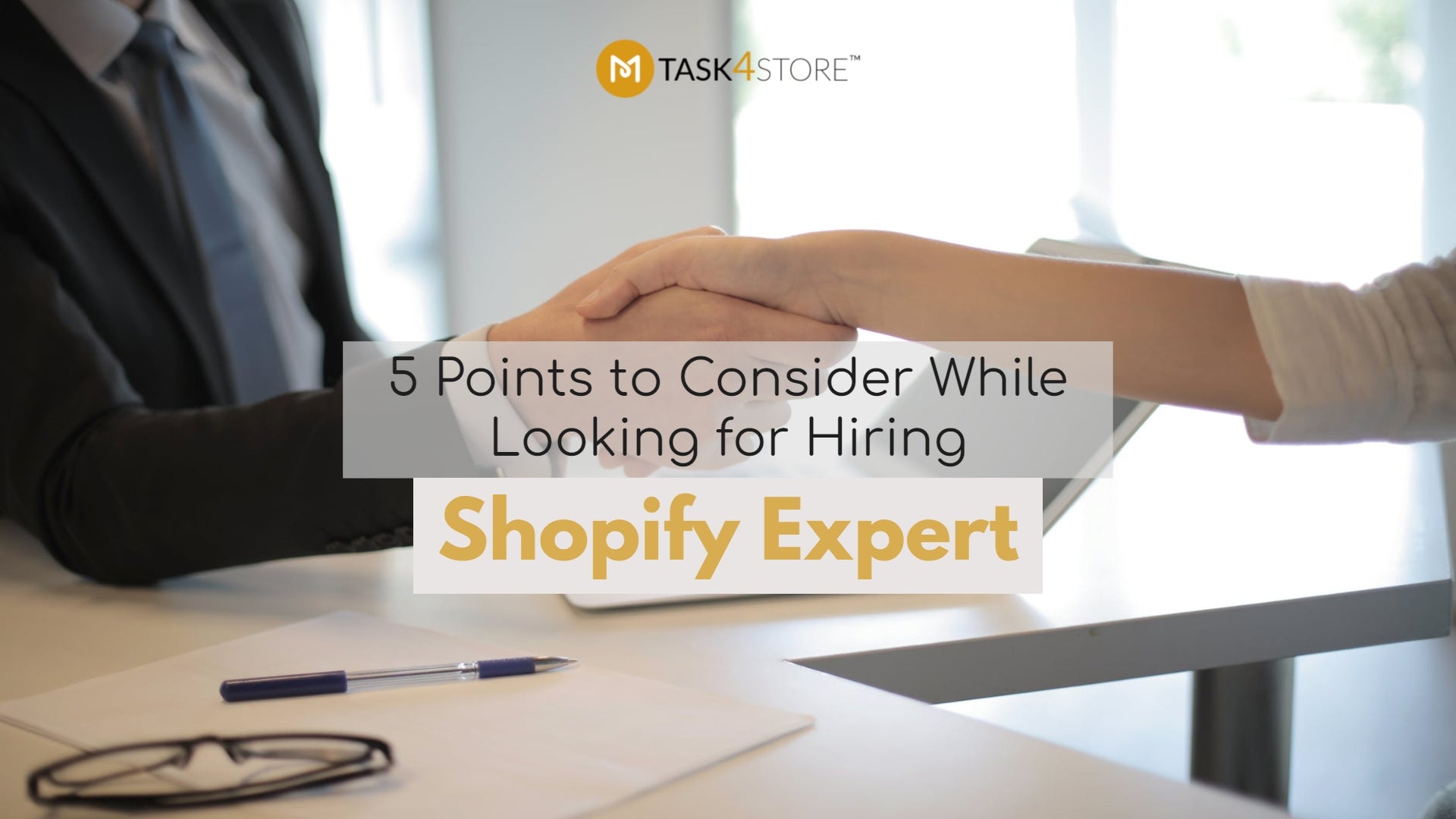 5 Points to Consider while Looking for Hiring a Shopify Expert
Hey there Shopify Merchant!
Bringing you a new topic for today's read.
Today's Topic: Things to Consider Before Hiring Shopify Developer.
Q) Why should you hire a Shopify Expert?
For a smooth website set up to the right design so you're ready to sell ASAP with the most traffic sticking around.
Experts are known to make your website setup journey easy and fast. That's why you hire an Expert. Experts know what today's trends are and create designs that cater to current-day scenarios. Experts also know how to manage your website and how to handle the traffic. Experts are the ones who keep your business running smoothly by promoting products using all marketing channels available. And experts are not required too often. In most cases, once a year.
Q) Are Experts important?
Very. They know more about websites than you.
You're a business owner who decides to sell your products online. You want to make this change, but generally don't know how to do it. This is where you call an Expert.
Coming back to why
hire a Shopify Expert
A Shopify expert takes charge of the following:
Shopify Store Setup
Shopify redesigning / makeover
Migration to Shopify
Shopify Store Maintenance
E-commerce marketing campaign
Search Engine Optimization
Website Speed Optimization
Graphic Designing for marketing
Template designing for Landing pages
Content for marketing campaigns
Shopify Small tasks / Specific tasks
So, below mentions the 5 points to consider while looking for hiring a Shopify expert:
1. Search Engine Optimization skills -
Search engine optimization allows people to find your web page easily. You need to optimize your E-commerce website so that search engines can easily find and catalog what is there on your web page. A Shopify Expert can make sure your website is SEO-friendly. The aim is to provide accurate information the fastest. Don't skip this step.
2. Web Speed Optimization skills -
Web speed optimization allows Search Engines to find your website within a few seconds. The faster your website, the faster it's displayed on a search engine's catalog index. The accepted time is 7 seconds but there are websites that can catalog within 2-3 seconds. The faster the website speed, the more people visit it. Don't skip this step either. A Shopify Expert is trained to do this job very well.
3. Store Setup -
A Shopify Expert is best trained in setting up your Website so you don't have to. All you do is hire a Shopify Expert and we do the rest. You are the business person. Let us set up your website the way you like and from there, you're ready to do business. As a Shopify Expert, we can also do website migration to Shopify. Just have a check with us and we'll tell you how. Link mentioned below.
4. Designing -
Creativity is very important when it comes to E-commerce. Graphic designing is something that online marketing absolutely needs in this modern world. Through colors, pictures, and text, you need to showcase that your brand is genuine and top-notch. It must be engaging and captivating. There is a psychological impact that the viewer goes through that makes them stay back on the website if done right. All Shopify Experts have a dedicated team for this.
5. Content Writing and Advertising -
Written and verbal communication is key when it comes to the success of a business. From product descriptions to blogs to copywriting and advertising; your language and creativity determine if your brand will be a success. You need to be able to come up with appealing and interesting content to keep the audience engaged and entertained even if they are binging. A
Shopify Expert
with a Content Writer can do wonders advertising to the viewer what it is you are selling.
Conclusion:
We are among the best Shopify Experts in the market. If there is anything you need help with regarding the E-commerce platform, do give us a call. We can provide you with all the tips and services you need to run your business.
We also provide Apps that help improve website experience to calculating costs for upgrades.
Don't hesitate to choose a Shopify Expert to help better your visitor's experience at your site if you feel like updating and upgrading your site!
Trust us, once you hire a Shopify Expert, you'll feel the difference!
Connect with a Shopify Expert on
https://www.task4store.com
Choosing a selection results in a full page refresh.
Press the space key then arrow keys to make a selection.