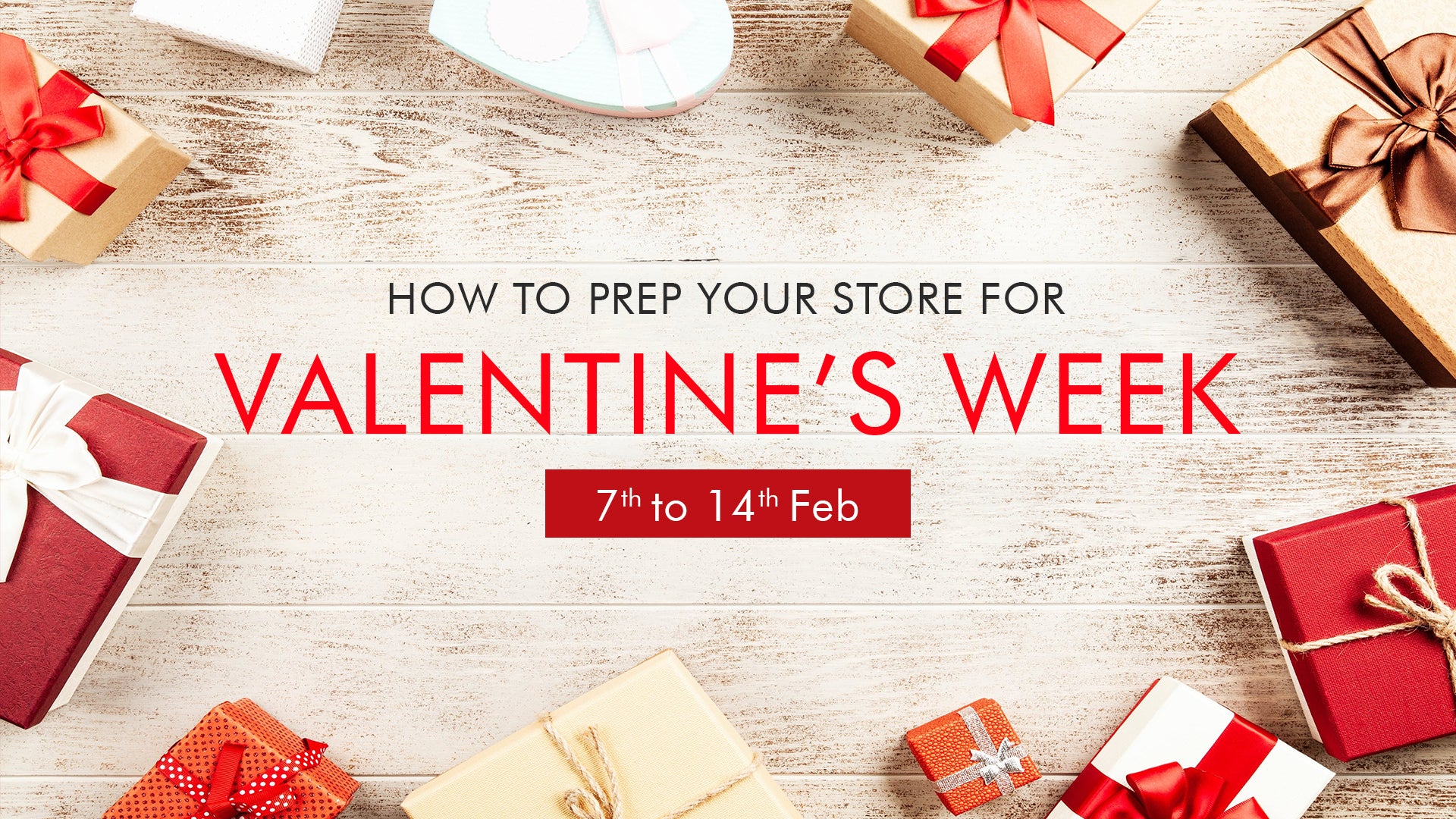 How to Prep your Store for Valentine's Week
The time when couples surprise each other with gifts, chocolates and flowers is almost here. A big day for lovers and singles alike, this is also a great opportunity for marketers worldwide to boost their sales and conversions.
Last year saw massive customer spends in U.S. alone to the tune of a whopping USD $20.7 billion. 
Table of Contents:
V-Day is not only Flower Power Anymore
Gone is the time when Valentine's day celebration meant only dine out, cards and flowers -- it has turned into a hugely popular festivity marking a massive celebration of love with trendy gift items. From couple-specific gifts to surprise planning activities, there is a lot that ecommerce merchants can focus on, during the love week. If you're an online store owner, this is the ideal time to prep up your store for the Valentine's week starting February 7th so huge sales can start kicking in once again after the Black Friday Cyber Monday and Christmas shopping extravaganza. To help you build lovable user experiences during this festive season, we've come up with a few actionable design, development and marketing strategies targeting the entire Valentine's week.
1. Explore Valentine's-Specific Design Customizations: 
What your store needs for Valentine's is a perfect blend of the right colors, symbols like hearts and roses and stylised fonts to highlight a romantic vibe on your store. Consider attractive displays of your exclusive Valentine's products or bestseller collections in a Valentine's Week Gift Shop section to attract users to check out your products and services and purchase from your store. Even if your store is not centered around jewellery, chocolates, photo frames and such items, a Valentine's inspired theme on your store; a custom hero banner with Valentine's special offers, Buy One Get One deals and Flash Sales; Gifts For Her/For Him collection categories and product labels can make your users feel that you care to make this occasion special for them.
Bonus: Your conversion and sales graph reaches a new high! 
With specific Product labels highlighting your offers for example, 50% Off, Best Offer, Limited Time Offer and Flash Sale, you can inform your users about which products in your store are on sale and what discounts/offers are available on these select items.
2. Add Certain Functionalities to Create A Sense of Urgency: 
The best way to attract user's attention and entice them enough to make quick purchases on your store is through functionalities that add a sense of urgency and scarcity. Certain festivity-oriented functionalities like the Discount Code and Countdown Timer can add a great value to your store, especially during the Valentine's season, in terms of enhancing the user experience and boosting sales. When you add specific and easy-to-remember Discount codes on your website, it attracts and delights your users and they feel prompted to make a purchase just so they can avail the discount. Countdown timers build a sense of urgency and scarcity right before your Valentine's special offers, Flash Sales and/or deals are about to begin. This ticking clock kind of a feature prompts the user to take instant action.
3. Execute Campaigns, Generate Leads & Build Customer Loyalty
Decide the social media and other marketing channels where you're going to promote your Valentine's special products and offers and start executing Valentine-specific marketing campaigns. A few interactive and effective marketing strategies like a Newsletter Popup highlighting your Discount Code or a Valentine's Special Giveaway campaign builds up to the excitement of the D'Day and creates the right buzz around your products, offers and deals. This can also help you in brand awareness  and help you collect valuable customer data for further lead generation. Your email marketing and social media marketing will get quite a boost when you send Valentine's-inspired newsletters with clickable Discount Codes and host Giveaways on your website or on social media to build your community and engage your site visitors or social media followers to participate in these exciting giveaways and/or contests.
4. Personalize User Experience
Speaking of triggering a sense of urgency and building a strong and loyal customer base, what gives is a positive user experience where customers are able to connect and engage with your brand. This happens when you personalize their shopping experience with features like Gift Wrapping, Gift Notes, free Mystery gifts, bonus prizes with all orders and Free Shipping offers. 
Show Some Love To Your Store
Once you have optimized your store and your marketing campaigns for Valentine's week, you need to test the functioning of your site and its responsiveness on mobile, and track and analyze your conversions and sales over this sale rush period. Mobile responsiveness just adds to the user experience and also the fun element of Valentine's shopping as most users check Valentine's offers and deals on their smartphones and tablets, especially keeping in mind that there is also a lot of last-minute shopping that takes place after February 10. A streamlined and well-planned Valentine's campaign is a must if you want to boost your store sales, no matter if you've just started or have been in the industry for a long time. Create a memorable, romantic Valentine's for your users and you're more likely to get repeat business year-on-year. If you need more ideas or expert help on optimizing your brand for Valentine's week, check out our varied range of tasks specially designed to help you make the most of your online store.
Choosing a selection results in a full page refresh.
Press the space key then arrow keys to make a selection.