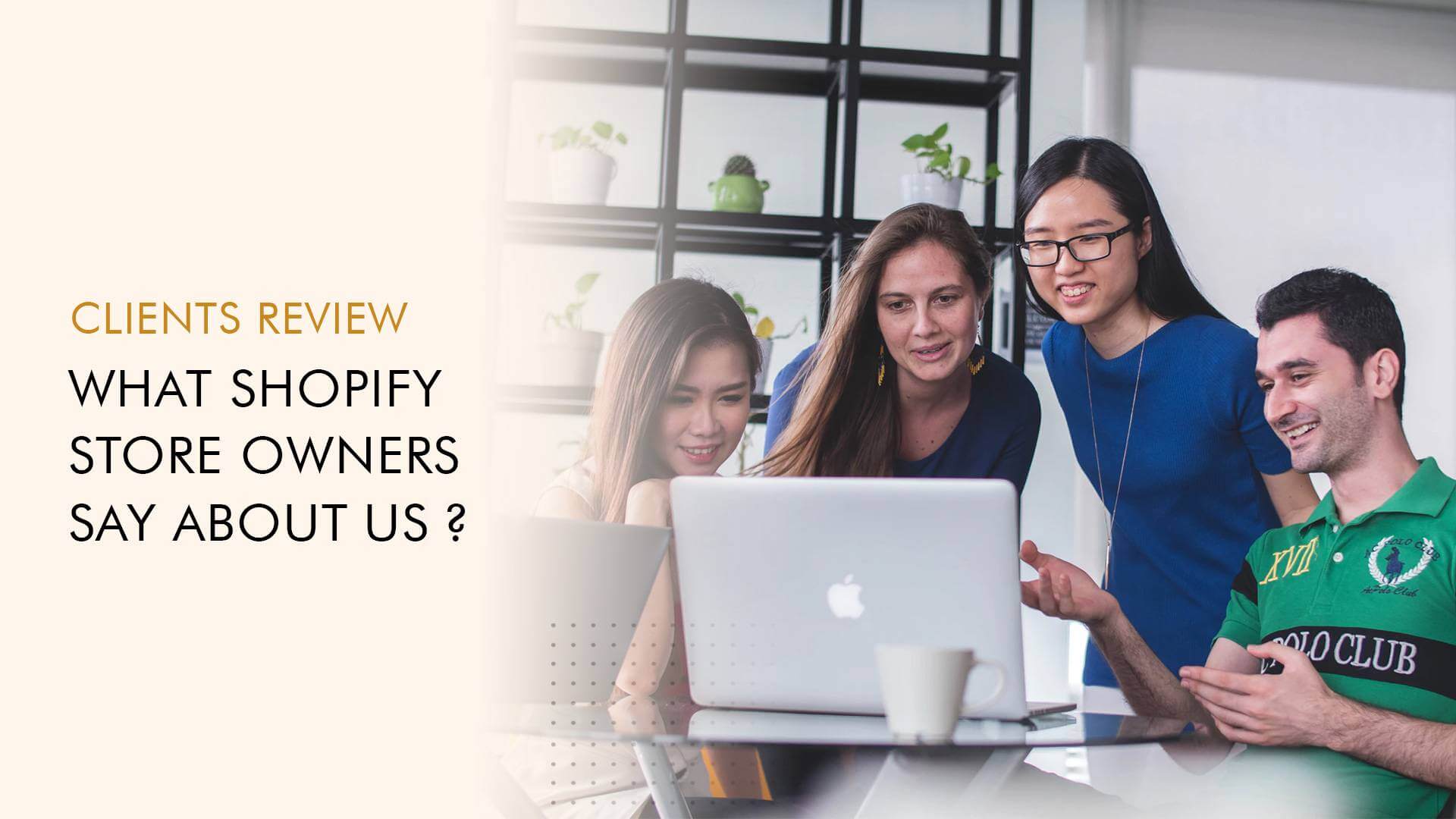 What Shopify Store Owners Say about Us ?
Building positive experiences for Shopify Store Owners
Our community is growing stronger day by day. And the biggest role in this has been played by the Shopify merchants we've worked with. We work with a single mission - to make Ecommerce better for everyone with the help of Shopify and Shopify Plus and create positive experiences both for Shopify merchants as well as their customers.Some of the tasks we offer on Task4store are custom header/footer, cart drawers, product labels, reviews, descriptions, gift wrapping facilities, delivery date picker, dropdowns/mega menus, collection page banner, sticky cart, AJAX search bars and security trust badges among others. Over the last 5+ years, we've been happy to successfully execute 20000+ tasks for 1000+ Shopify merchants worldwide and the kind of reviews we have received over the years goes to prove that they've been happy with the results.
What makes them even happier?
The fact that we understand the challenges that they face once their store is up and running and our small tweaks are designed to resolve these challenges at competitive rates and with equal support that comes with a medium or large sized project. The result: Their positive feedbacks! And, 'feedbacks are gifts!'
Here's a few of them:
" Quick to communicate and did a great job with the small tweaks to our site. Would definitely work with again. Thanks! "
MITCH BECKMANN
Rev Dynamics, USA
" Fast response to my messages and to do the job. Very happy with the result. "
ARDAVAN SEPEHRI
Petlantis, Canada
" MS Web Designer completed every single task that we asked for in a matter of hours. I was very impressed as to the quality of their work and would definitely recommend - they allowed us to fix up major parts of our store in basically no time at all! "
ETHAN ALLEN
Console Case, France
" MS Web Designer was timely and efficient. We only did a small job for us but I would definitely contract with them again. "
JOANNA REIN
Soggy Doggy Productions, USA
" Very quick and by far the most affordable quote I was given for my desired project. Would certainly work with them in the future. "
KOLBY KENDALL
Gymterior, USA
Our customers have been highly generous when it comes to sending us feedback. Their positive comments and kind words of encouragement have always motivated us to do better. The biggest satisfaction comes from the fact that our customers have loved our personalized yet professional approach and have recommended us to their family and friends.
" Yes would highly recommend MS Web Designers to anyone. I'm very satisfied with their work so far. "
Market DIRECT
USA
" Great job. They went the distance and made sure their work was just right. "
STEVEN TAYLOR
Taylor and Hastings Career Consulting, USA
" Excelnt job, even with a 12 hour of time line diference we can complete the job. Thanks MS web designer "
RICHARD MEJIAS
Smeralda Swimwear, Colombia
Everything is working great.!!!!!!!!!! Job was great from start to finish, everything i needed done was completed to a very high standard. Anything i asked of ms web designer was done and at a very good price too. simply the best at what they do !!!
KEITH CHIVERS
TrendyStyleFashion, United Kingdom
Source - Shopify Services Marketplace
This is not the first time I work with this company. I worked with them a couple of times in different scope of works, and every time they give us a superb job. I highly recommend their services. Fast delivery, fast response to your emails and finally they design and set up an amazing Shopify store for us. Guys, you are the best.
ZIAD IBRAHIM
Geekfashion Store, Singapore
Source - Shopify Services Marketplace
SUDIPTA WAS VERY ATTENTIVE DESPITE OUR TIME DIFFERENCES. I AM VERY HAPPY WITH THE OUTCOME FOR THE PRICE AND HE HAS OFFERED FOLLOW UP HELP JUST IN CASE I DONT UNDERSTAND SOMETHING. I AM VERY HAPPY AND WILL USE HIS SERVICES AGAIN.
TRACY HUNTER
Thickestcurve, California, USA
Source - Shopify Services Marketplace
Very Prompt and professional. Understood and carried out all that I asked. Great to now have a contact that we trust who can carry out work for our store! Thank you MS Web Designer. Highly recommend
Ovvio Organics, Australia
Source - Shopify Services Marketplace
I'm very pleased with the work the team here at MS Web Designer did for me . My store has been completed to high standard and looks fantastic. The team are very professional and patient and work with you every step of the way . I would highly recommend MS Web Designer
LU MOON
Norway
Source - Shopify Services Marketplace
Great work! Prompt service helping with Shopify content management and customization.
CORVETTE GUYS
USA
Source - Shopify Services Marketplace
they always do a great Job. I'll be working with them more and more
Dudu & Sonson
Apr 16, 2019
I highly recommend MS Web Design for any job. The communication was quick and the tasks were done efficiently. They new exactly what I wanted every time. Thank You!
Crafted From Heart
Apr 15, 2019
Very impressed with their fast response,  amazingly prices for this high quality of work put into my website.  I love it !!!! Thank you to this great team  .Good job!
Swagger Wear Co
Job cost - $500 USD
Feb 15, 2019
super friendly support. job done seamlessly.
God Save Queens
Job cost - $35 USD
Nov 4, 2019
Designer performed task with professionalism and communicating all the time. Very happy with the job!  Designer Answered any concerns or questions I had. I definitely recommend MS Web Designers.
Instashop Life
Aug 13, 2019
MS Web Designer is very professional and willing to accommodate any requests I had. Also the quality of work is fantastic and very fast. I will be using MS Web Designer for all my Shopify needs they are great
Boy Buttler
USA
Source - Shopify Services Marketplace
I have used their Shopify Product Upload service many times, and have always had a good experience. This can be a very tedious project, but with their help it becomes headache-free. Provides great service at a great value. Very responsive to feedback and will keep working with you until the job is done exactly as you want it. I have hired them many times to help build out my store's catalog, and I think that is a testament to their competency. I enjoyed working with them and will be using them again in the future. Great value.
Rattan Imports
United Kingdom
Source - Shopify Services Marketplace
Hi! I'm newbie about the website business and for me, I would recommend MS Web Designer to everybody who is looking for an excellent website developer ! They really helped and assisted me in building my website from the least to the important details. They are very patient with working with me , they are always prompt in answering my emails and messages. They do and deliver their work to the best that they can ! I highly recommend MS Web Designer!!
Mypetshoppee
Australia
Source - Shopify Services Marketplace
Team MS web was amazing! Works passionately and closely! These guys work hard and smart! They seem to be on job 24/7! Pretty incredible team
Radicon Institute Of Radiology
Singapore
Source - Shopify Services Marketplace
Very reliable expert to work with. Good communication skills and getting the job done. Highly recommended
Long Island Toys
Canada
Source - Shopify Services Marketplace
MS Web Designer Shopify experts are one of the best teams I have worked with. Especially a special goes to Masum for being very patient and going the extra mile to complete the tasks. I very much recommend them. Will be back to them in future as well. They are a 5 stars team
Alna Textiles Ltd
United States
Source - Shopify Services Marketplace
Thank you very much! MS Web Designer are super patient, professional, and works very quickly. I appreciate all you've done. My site looks amazing!
Rayonna Simmons
ChloeRae, United State
Source - Shopify Services Marketplace
We had a really great experience working with Team MS Web Designer. They were quick at providing us with a quote( including not only Shopify shop set up,but other perks like setting FB store,creating mail chimp etc) and worked on the project in a professional manner. Team MS Web Designer is very knowledgeable about Shopify platform, and very helpful throughout the whole project. Overall, we had a good experience working with Team MS Web Designer ; we really appreciated how responsive they were and supported us well both during and after development.
Coversome
USA
Source - Shopify Services Marketplace
Thank You MS Web Designer. I truly enjoyed this experience and I will definitely reach out to you again in the future. I love my site A LOT! I could not have done it without you. Thank You... I also want to wish you the best in your journey and much success to you and team. Your team ROCKS!!!! Thanks again.
Keenan Robinson
405Avondale, Inc, USA
Source - Shopify Services Marketplace
Happy to reccommend these guys. They were responsive and made all the changes I asked for without any problems. Happy with the site and the way it looks and works.They are Real Shopify Certified Expert .They Take Care for Everything ..A++ team , and Outstanding Customer Support services
Dealninja
USA
Source - Shopify Services Marketplace
I am at a loss in designing my own website to execute and do my dropshipping business. I read so many options from shopify until i found MS Web Designer. They are the most reasonably priced but i was hesitant to get their services. I have read some of the customers who provided feedback and based my decision on these feedback. Its a good thing I got their services. I got a professionally designed website, was able to fast track designing and linking site to some apps. Ms. Masum did a really good job in helping me start. Two thumbs-up to MS Web Designer -- they are fast, professional and know exactly how to help their customers.
Classy Sheets
Nigeria
Source - Shopify Services Marketplace
Well! That's a wrap! As founders, we feel overwhelmed when we receive rave reviews for the input we and our team have put in for our client projects right from conceptualization to completion. We'd continue to serve ambitious Shopify merchants with our UX-focussed services on small task design and development. We are really grateful to our customers for choosing Task4Store and MS Web Designer to execute their brand vision and be a part of their growth story as they are of ours. We're also thankful to our partners for helping us throughout projects for app and software integrations and making our platform a success.
If you're a new Shopify store owner, you can be rest assured that when you work with us, you will get all the support you need to sustain and grow your business!
Choosing a selection results in a full page refresh.
Press the space key then arrow keys to make a selection.