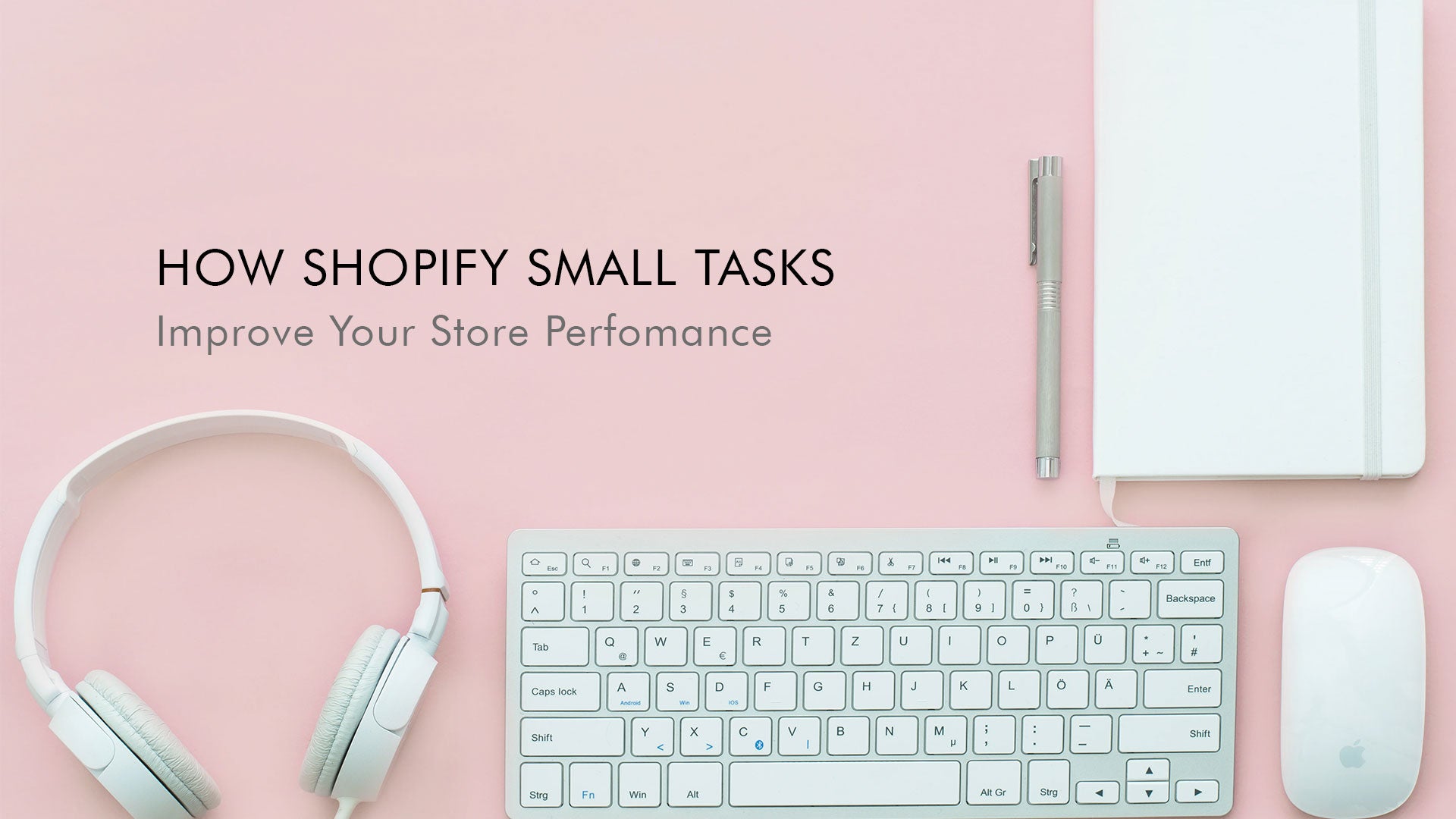 What are Shopify Small Tasks and Do They Impact your Site Performance?
2019 has been a great year for us as this was the year when we got ahead of ourselves. We redesigned our site, introduced a new App, launched this site exclusively for Shopify small tasks and also have prepped up for other exciting plans for 2020!
But is your store ready for what 2020 is to bring?
We believe every business faces its own unique set of challenges once their online store is up and running. From getting store traffic to improving usability and boosting conversions, there are a lot of small advancements that online stores need to gain an edge above their competitors and make the most of their stores.

This is exactly why we came up with Task4Store - to offer a one-stop solution for all small task requirements to optimize all your web pages to attract, delight, convert and retain your customers and boost the overall site performance.
But What are these Small Tasks?
Small tasks are nothing but quick fixes and targeted tweaks that aim to solve a certain issue you are facing on your store or give you desired results for sales, conversions and brand presence. Any task that takes upto 1 hour of personalised design, development or marketing expertise is a small task.

This could either be a fresh look to your store with small modifications to your user design and interface or adding product labels like Sold Out, New Arrival, et al and announcement bars. We offer single tasks starting from $19 with a fast turnaround of 1 business day for a single task. Even though these tweaks are done in less time, all the tasks are executed and implemented with high creativity and precision.

Check out our Shopify Small Tasks Catalog to know what exactly falls under a small task requirement. You can describe your task requirement in complete detail or reach out to us in case of a query regarding the tasks apt for your store.
How Can Shopify Small Tasks Help Your Site Performance?
Shopify small tasks are add-ons that are specifically designed to enhance your store functionalities that in turn enrich your user experience and build positive online shopping experiences.

But when your store gets additional features, your overall site performance gets a boost too!
Here are some small tweaks that can specifically improve your site loading speed, image appearance and user navigation on your store:
Mobile Responsive CTA Buttons- With responsive call-to-action buttons and fully optimized store, you have the confidence that no matter which device your customer uses to view your store, they will not be disappointed. All your call-to-action buttons such as 'Add to Cart', 'Buy Now', 'Shop Now' and 'Quick View' buttons are easily accessible on mobiles, tablets, PCs, iPads and more.

All the texts, icons, graphics and images on your store are made compatible with all technological devices so that your customers feel good to interact with your store no matter where they choose to do so. CHECK THE TASK
Image compression and Code minification - Our team of Shopify experts work with you to conduct a site audit, analyze your SEO metrics, page loading speed, product reviews and existing apps on your store to understand the features and functionalities slowing down your website. This also includes compressing/resizing/editing images and minifying codes so the store is optimized for supreme performance. CHECK THE TASK
Carousels with Thumbnail Images - Opt to showcase all your products in a fun, interactive and responsive carousel where customers can easily navigate from one product to the next while also getting access to relevant product info and apt thumbnail images. The user can switch between thumbnails on the carousel for more control and a seamless shopping experience. CHECK THE TASK
Organizing Product Listings with Dropdowns - Streamline your product listings with well-categorised dropdown menus, especially if you have a wide selection of products and/or collections. Make product search easy for your users with this essential small task. CHECK THE TASK
Adding Search Bars - Speaking of making product search easier for users, an AJAX search bar on your store header further elevates the search process. So if users are looking for some specific products in your store, they can simply type in their requirements and get exactly what they're looking for. CHECK THE TASK
Sticky Cart - Get sticky checkout bar, sticky 'add to cart' and 'buy now' buttons with this feature to reduce cart abandonment. With a sticky cart icon following them on the product page, customers don't get distracted by moving back and forth from product page to cart page, every time they add a product to the cart.

Improve the user experience and your store conversions with the sticky cart icon where the total number of items added to the cart is also made accessible right on the product page.

You can get your entire cart page overhauled with 'Gift wrapping' options for your products, letting the customer choose their preferred delivery date and time and building trust with security badges. CHECK THE TASK
Back-to-Top Button - Improve the user experience by facilitating seamless navigation from any section of a page to the top. When the users are connected to the header section no matter where they are on a page, they find it easier to interact with your site, hence improving your site performance and usability. This further boost conversions. CHECK THE TASK

Functionality Store Review - Get to know which of your store functionalities are helping your business and which of them have become redundant and are impacting your site loading speed. With a thorough audit of your store, we take care to optimize your site with functionalities that are only contributing towards a healthy conversion rate and making your site stand out.CHECK THE TASK

Setting up Google Analytics - The Google Analytics reports help you get insights on how your customer interacts with your store, their demographics, the most viewed pages and products and the time when the site traffic escalates. With this feature, you get every miniscule detail about what is impacting your site performance over a period of time. CHECK THE TASK

Setting Up Google Search Console - Measure your site's performance, impressions, clicks and Google ranking with the implementation of this feature. The feature is set up, installed and configured in less than an hour but it helps you map the ranking and traffic on your store as well as lets you submit sitemaps, optimize your site content, fix bugs on your site, get your site information updated on Google and also tells you how Google indexes and crawls on your site. CHECK THE TASK

These are just some of the small modifications to improve your overall site performance. When your customers use a high-performing store, it leaves them with a happy feeling. And what better than improving the user experience with small tasks that take only an hour but make a big difference to your business?

At the end of the day, every business owner wants to have a positive impact on their customers. This is the end goal every entrepreneur works with.
But how do you achieve this goal?
The only way this can be done is by ensuring that they have a stellar shopping experience on your store. Once this happens, you can trust that these customers will spread the good word and your conversion rate will get the boost it deserves! Besides, word of mouth will always be the strongest way to influence people in your favour.
How Do We Work?
The process we follow is simple: Once you buy the task you require, our single task team starts the work. A developer and designer is dedicated to completing your task requirement. We recommend that you mention your requirements in detail so we can assign the work to the developer and designer right for the job and ensure that all these requirements are fulfilled.

Meanwhile, our project manager communicates with you and updates you on the progress status of the task. We then send you the first deliverable of the task within the committed timelines and make changes as per your feedback. Once approved, the task is implemented on your store.

We've completed over 20000 tasks for 1000+ merchants so you can be rest assured that once you entrust us with a small task request, your store is in safe hands!
Choosing a selection results in a full page refresh.
Press the space key then arrow keys to make a selection.