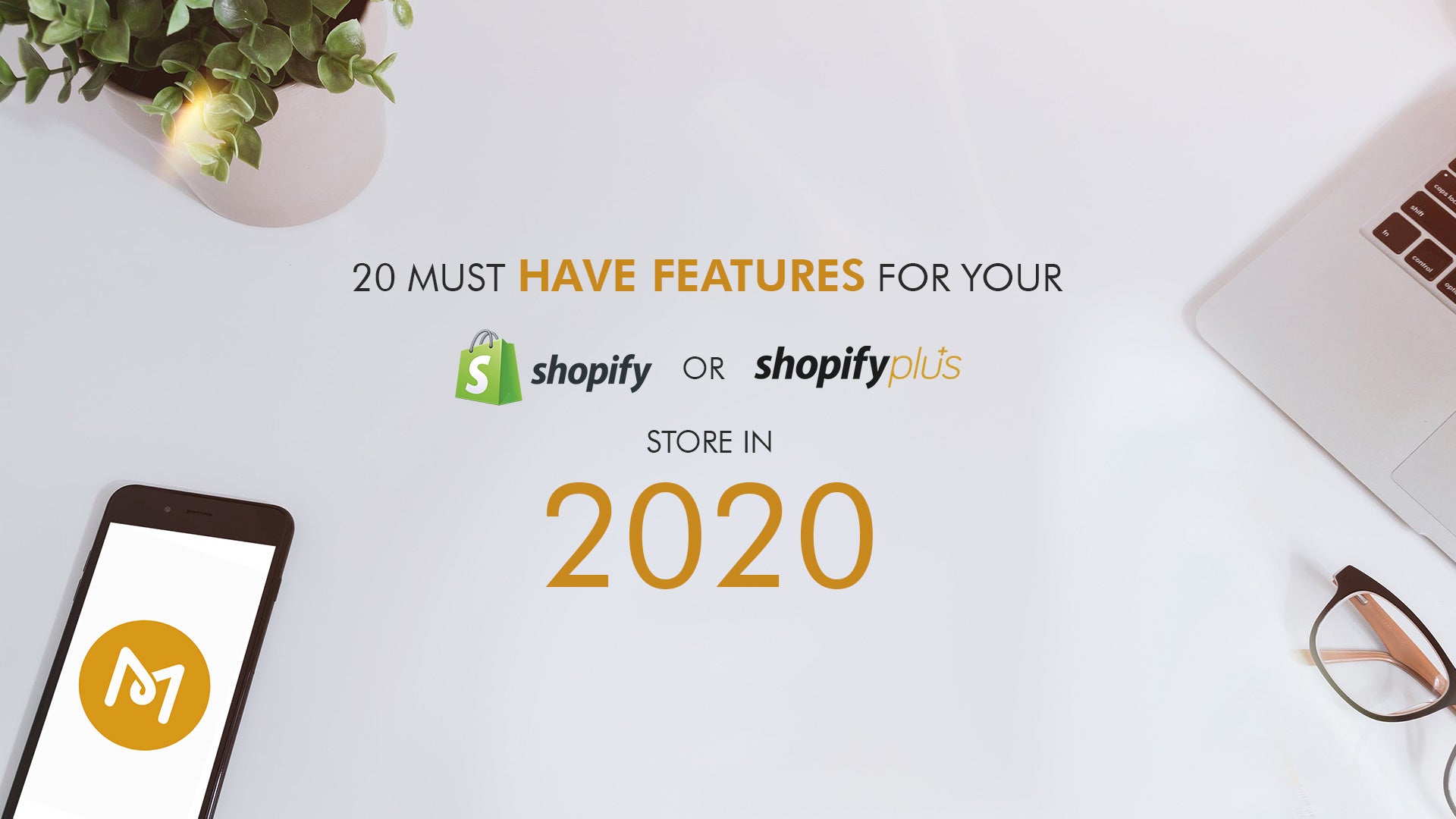 20 Must-Have Features for Your Shopify Store in 2020
With the onset of the New Year, there is an even better promise of advanced features, newer technologies, global ecommerce expansion and an evolving digital marketplace.But is your store ready to face the challenges that come along with these advancements in the digital industry?The best way to find out is to diagnose and audit your store for proper evaluation so that you know what's stopping you from reaching your peak. This will tell you what to fix on your store and the features that your customers may want to avail from your store.
Table of Contents:
Did you know adding some select features on your Shopify store can dramatically improve your site performance and overall conversions?
Here are 20 essential and engaging functionalities that are bound to make your customers fall in love with your store:
Your header and footer are two sections that any customer will invariably check once they are on your store. Customizing your header and footer can include - 
Creating a slide out cart to ease the shopping experience
Setting up multi currency options on your store header.
Opening social links in a new tab.
Or adding custom newsletter sign up forms on your footer section.
Regardless of the functionality you choose, make sure your store header and footer gets as much attention as other sections of your store.
2. Home Page: Instagram Feed on Homepage
All your instagram product pages right from your instagram feed can also be showcased on your home page, thanks to this functionality. How will this help your store? Adding Instagram feed to your homepage would lead your homepage visitors to your instagram shop or even direct your Instagram followers to the products they like right on your homepage. More the users interact with your brand, whether on Instagram or on your site, better is your chance at building brand awareness.A responsive Instagram feed on your homepage would help your customers be updated about all your latest products and company events.
3. Header: Instant Product Search & Smart Filter
Speaking of customizing the header section, you can improve user experience by letting users quickly search and discover what they're looking for on your store.

Adding an AJAX search bar on header will also ease navigation on your store as customers have to spend less time scrolling through your collections to get their desired product. The instant product search box offers your customers several product options related to the term they've typed in so that they can filter and choose the exact item they wanted to shop.
4. Collection Page: Product Filter
Once your customer reaches the collection page, you can help them navigate through your products easily by categorizing and filtering these products basis their size and colour to offer more options to the users as per their preferences.You may also choose advanced filtering functionality to help users search for specific products, and make the whole search and selection process simpler and smoother.
5. Collection Page: Mouse Hover For 2nd Image or Mouse Hover on Slider
When your user views a certain page of your site, your aim is to lead them to view other sections/pages of your site. This can easily be done with a simple 'mouse hover for 2nd image' or 'mouse hover on slider' functionality where when the user hovers their mouse on a product image or in the slider on the collection page, the next image showing the product in a different angle/style appears. If this motivates the user enough to buy the product, they can easily click on the second image to visit the product page, read more specifications about the product there and take the desired action.This is especially great if you're an apparel or accessory seller, as this gives you the chance to showcase your products in all the different ways possible.At the same time, the user also finds it easier to take the purchase decision without having to actually visit the product page until they have made the decision to buy.
6. Collection Page: Quick Checkout & Skip Cart
With a clickable 'buy now' button, the customer is directly led to Shopify checkout options without even having to visit the cart page. Clicking on the 'Buy Now' button leads the user to the specific third-party page related to the payment option that they chose.
7. Product Page: Sticky 'Buy Now' and 'Add to Cart' Button
A sticky checkout bar can really be a game-changing functionality for your store. This sticky checkout bar right on the top of the product page includes a sticky 'add to cart' and 'buy now' button that directly leads the user to the checkout page without them having to navigate to the cart page.These sticky call-to-action buttons follow your user even as they scroll down the page so they are encouraged to make the purchase and do not get distracted with too many steps and clicks to buy a product from your store.
8. Product Page: Product Description Tab
Give your users as much information about a product as is necessary to help them take the purchase decision swiftly. From adding product reviews, available sizes, colours, and maintenance instructions to other precise product info like the material used, shipping details, delivery date and time, the product description tab aptly presents all the information to your users just as they click on the product image.
9. Product Page: Product Color & Image Swatch
Adding high-res images on your store is great. But what if you want to show the exact pattern, shade or texture on your products especially if yours is an apparel store?The 'colour variant selection' functionality enables you to show your customers different colour and image variants for your products.
10. Product Page: Product Quick View
A simple pop-up of quick view would help your customers to quickly preview the product specifications on the collection page itself without even having to visit the product page. The 'quick view' popup remains static and offers the user a choice to either opt for the preview or not. This encourages users to buy products from your store quickly, improving overall sales.
11. Product Page: Cart Drawer
A mini version of the cart page, the cart drawer pop-up instantly lets your customers see the products they have added to the cart without even visiting the cart page. Your customers will love this personalized effect on your store!
12. Product Page & Collection Page: Product Labels
It's important and expected out of any online store today that they would update their customers about the products that are sold out, new arrivals, on clearance, seasonal, bestseller, coming soon or more with clear product labels.Don't keep your customers hanging or unsure about the products they buy.
13. Product Page: Notify Me When Available
It's unfortunate when a customer is interested in buying a product but the product is not available on your store anymore. Don't lose the customer over an 'out of stock' product. Simply notify them on the email when the product is available again with the 'Notify Me When Available' functionality.You will also come to know the product they are interested in when they email you. Another benefit that this feature gives you is an access to the customers' email addresses! Isn't that great? You can also let customers know about the related products that they might be interested in, in place of the 'out of stock' product.
14. Product Page: Product Review & Testimonials
None is a better way to guarantee your customers that your products are worth buying than adding some product reviews or testimonials by other customers.
Customer feedback along with the company logo and/or the picture of the customer ensures that other site visitors trust your products and your brand.
15. Cart Page: I agree with the terms & conditions
The 'I agree with the terms and conditions' checkbox is the only way to know that your customers agree with the terms and conditions of your business. It's also a great way to increase your brand credibility and authenticity.
16. Cart Page: Gift Wrapping & Gift Notes
Who doesn't like a little gift packaging and the choice to add gift notes like 'Happy Birthday?' Offer gift-wrapping service to your customers and build a happier, more personalized relationship with your customers.
17. Cart Page: Additional Cart Notes, Delivery Date Picker, Where did you hear about us ?
When you give more options to your customers, they love your store even more. Let them tell you how they want their product to be packaged, when they want it delivered and how did they come to know about you.Remarket your products to these and more customers on the marketing channels where they heard about you and voila! your conversion rate goes up.
18. Home Page , Product Page, Cart page : Trust Badges
Trust is essential when you are on your way to build a relationship with your customers. With Trust badges on your store such as 'Verified & Secured/Trustlock' 'McAfree secure', 'SSL Certified', 'PayPal Verified' and more, you can guarantee your customers that you are a brand worth trusting.No doubt your conversions would be way higher with a trust badge than without!
19. Customer Support : Live ChatThe sooner you resolve your customer's queries, the better are your chances of retaining that customer and improving your online reputation as a brand!A Live Chat functionality with dedicated staff answering customer's queries instantly and pacifying irate customers will speak volumes about how your brand treats its customers like a priority.A strong step towards building your customer loyalty program!
20. Footer: Newsletter Popup
What if you could let your customers know about the new products, events, promotions, offers, deals and other such updates on their inboxes?Stay connected with your customers with a newsletter popup that prompts these customers to sign up for the content that you wish to send them.The placement of this pop-up on your site would be based on where your preferences. It can either be when the users are exiting your site or have scrolled way down to the footer area.If adding a few functionalities can improve your store UX and your conversion rate, imagine how customizing each of your page with necessary integrations and functionalities to monitor user behaviour can improve your site performance and your brand value.
Just like a brick and mortar store, your website must look presentable and functional in every way possible -- not only with standard practices but with unique, out of the box functionalities that greatly enhance the shopping experience.
Know more about these functionalities below.
Now It's Your Turn:
There you go! 20 features to optimize your Shopify store in 2020.Now It's Your Turn. We'd love to know -Do you plan on using all the features? Or maybe you want to test some features.Either way, leave a comment below right now.
Choosing a selection results in a full page refresh.
Press the space key then arrow keys to make a selection.